Mike
Chef Mike Hopes to Open a Restaurant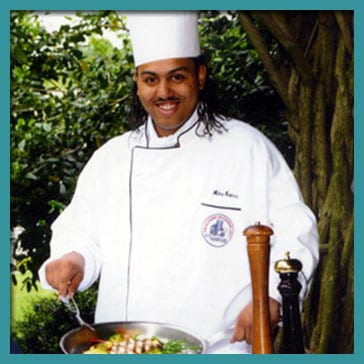 When Mike was in high school he made some poor decisions which landed him out of his family's home and into the care of the state of New Jersey. He was placed at Crossroads' Cinnaminson House, at the time a youth shelter home, before moving to more permanent housing at Crossroads' Transitional Living Program (TLP).
When he arrived at TLP Mike struggled with a variety of issues. TLP became a solid foundation for Mike where he knew he could count on staff to help with life skills training, school, and generally following the rules. With guidance from staff he began focusing on a positive future.
Mike was attending Burlington County Institute of Technology (BCIT) and began working long shifts after school at McDonald's. Understanding that true independence is financial independence achieved through good work ethic, he surprised everyone by completing McDonald's management program. When Mike graduated BCIT he was rewarded with a new truck from his parents, with whom he had always maintained a positive relationship. Due to his hard work and diligent savings, he was able to pay his full year auto insurance up front.
Mike realized his affinity for the culinary arts and decided to continue his training in hospitality by furthering his education at AtlanticCape Community College's Academy of Culinary Arts. Mike knew that he needed to be prepared to live independently when he was discharged from the system by earning enough money to go to college, have a place to live, and food on the table. His solution was to go to college during the day and manage the local McDonald's at night.
With the earnings from a steady paycheck, Mike moved into his first apartment near AtlanticCape Community College's Academy of Culinary Arts. To fulfill part of the school's community service requirement, Mike volunteered his time to cook gourmet meals for the kids at the Transitional Living Program. Program director Darlene Dalton remembers the awesome presentation he made for each meal he prepared, including a particularly memorable Chicken Alfredo!
Mike has graduated from college, moved to a larger apartment, and still maintains his job as a McDonald's manager. He stays in close contact with Transitional Living Program staff in order to help him stay focused on his goals. And, he still helps other youth get jobs at McDonald's.
In the early stages of a promising career in the hospitality industry, "Mike has all the ingredients for success, and he is also a very thoughtful and compassionate guy," according to Darlene. His work ethic and dedication to learning had always impressed her. "I knew he would be successful the day he came to Crossroads."
Mike's long-range plan is to save his money and open his own restaurant. Based on past performance, we are sure he will meet those goals. We are proud of all that Mike has accomplished.