Sarah
Sarah and her ROP Family Celebrate Graduating from Army Reserves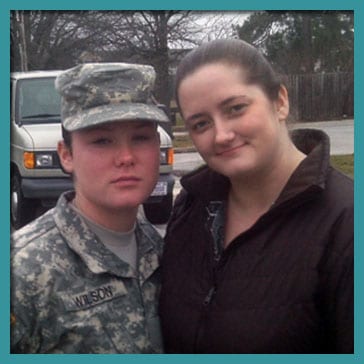 Sarah came to Rites of Passage in March, 2011. Her interview was almost two hours long. It was the longest, most in depth interview to date. She was more than honest about her past, aspirations, and even shortcomings. Since her arrival, Sarah has proven to be a committed, independent, and motivated young woman. She was adamant about finding work in order to pay rent, which she does consistently and on time.
Sarah is one of four children; she and her twin are the youngest. She lost her mother when she was six and her father when she was 15. She was forced to become a functioning adult far too early. Sarah graduated from high school on time and with a decent GPA. This is despite a lack of consistency with placements and a reliable support system. She rapidly discovered that the only person she could rely on was herself. She takes great pride in the fact that she is a high school graduate. Sarah is very intelligent and she also shows great humility and appreciation. She is also not one to make excuses for mistakes and poor decisions on her part.
Prior coming to ROP, Sarah attempted to complete a semester at Burlington County College in order to pursue a degree in Accounting. She struggled with the freedom associated with college life and was not successful in passing her classes. Although Sarah was very hard on herself about not succeeding right away in college, she was open to exploring alternate options. These included trade schools and the military. When Sarah found out that the military offered hands on job training and certifications, she was quick to jump on this opportunity.
As her life skills coach at ROP and knowing Sarah the way I did, I had reservations about Sarah joining the military. However, once I spoke to her recruiter, and determined that she was in fact joining the Reserves and would be trained to become a Human Resources Specialist, I was much more informed and supportive of her decision. She was ensuring for herself that she would have a career to fall back on while also opening many other doors, including travel and a free college education once she was ready for it.
Along the journey of joining the Reserves, we discovered there were many unexpected costs and concerns associated with Sarah joining the military. Would she still be able to receive benefits from the Division? Where would she stay over the holidays? Where would she go once she was completed her training? Could she come back to ROP? Where would she keep her stuff? What would happen if all the slots were filled? These were legitimate concerns, and showed yet another need for services for youth in the foster care system who decide to join the military.
Sarah left for basic training in August 2011 and was flown to Ft. Jackson, South Carolina. She understood that basic training was going to be intense, but her letters vividly demonstrated how demanding military life is and how hard it was for her to adjust to it. She wrote me often and always exclaimed how much she missed being home at ROP. She also consistently inquired if we would be able to attend Family Day when she completed basic training. She asked for care packages often, so she would not feel totally alone and left out when the mail came for her peers. We often sent her cards of encouragement, telling her she was not alone (along with the toilet paper, cough drops, lotion and chap stick I tried to send her every two weeks, things we civilians take for granted).
Sarah struggled in the beginning, but was able to successfully complete her Basic Training. She was ecstatic that she would be able to return to ROP for the holidays, and that DYFS would be able to pay for her bed for the three weeks it would take for her to complete her Advanced Individual Training. But I could not mistake her sadness and disappointment when she called on Family Day when she completed her Basic Training, that none of us was there. She had no one else to call or talk to on the day she was supposed to be welcomed and congratulated by her family and loved ones. We knew then we needed to try to find a way — the money needed — to attend the next big event.
When Sarah was home for the holidays, it was very apparent how much growing up she did. She was a different person; she had matured into a young woman. But she was still Sarah, and she was happy to be home. During her two weeks home, she asked almost every day if we would be able to come see her graduation from Advanced Individual Training. This is when we knew she needed the support for her big day, and quite frankly, she deserved it.
The Crossroads team began researching several ways to come up with funds so that two ROP staff members could fly down and attend the important event by Sarah's side. While we hit several deadends in the initial attempts, the Crossroads team reached out to another organization focused on aging out foster care youth, One Simple Wish, and between the two they came up with the money.
Sarah called me almost every Sunday while she was away when she had access to her phone, and I anxiously waited for her call the day I knew I could tell her we would be able to come down to Ft. Jackson for her graduation in January. She was overcome with so much joy and appreciation, she had trouble making sense. She said that we would never know how much this meant to her.
The day before Velma, another ROP staff member, and I were scheduled to leave, Sarah called me every few hours updating me on the graduation plans, e-mailing me maps of Ft. Jackson, and making sure that I would wake up on time for our 6am flight (I do not work in the morning and she knows this). When we finally reached her barracks at 4pm the following day, we got her in trouble for hugging her in front of one of her commanders. We were so thrilled to finally see her, and had no idea how military etiquette worked. Sarah did not care, and maintained, "But my people are here!" This was the first time Sarah was able to say this during her entire five months of training.
Donors, supporters, and all those who worked to make this trip possible will never know how much this meant to Sarah and to the Rites of Passage Transitional housing program for us to be together to celebrate her accomplishment as a family. I know I, Brigid Kelly, smile often as i remember the joy we shared together that day.